Real estate marketing on social media
Content, tips and strategies
Posted by CRIBFLYER on June 10th, 2017 @ 5:02pm PST
Technology has taken over the real estate industry. Online marketing is the key to acquiring buyer leads and seller listings. If you haven't already mastered social media and email marketing then now is the time to get started.
Quick Demo of CribFlyer Social Media Promote Tools
Yes, you should "Always Be Closing" but first you need to grow your followers and grow your email list. Cultivating a following on Facebook and Instagram isn't that difficult as long as you focus on quality content and post it sparingly.
Don't overpost. It may seem counterintuitve but don't post every day. You're prospective clients DON'T want to hear from you that often. Take the time to create quality content and REAL news about your local real estate market. Post once or twice a WEEK max. General rule-of-thumb is wait until you have great photos and something interesting to say.
Create high quality content. Invest in professional photos and set aside the time to write interesting, engaging content about your local area. For example, research the history of your area and post some little known facts about it.
Attention is scarce. Everyone has ADD caused by digital distractions. You have to create content that grabs their attention in seconds. Online journalists have perfected the art of listicles and click-bait headlines. Instagram marketers pioneered the idea of combining multiple photos into layouts or collages. These are just common sense ways to cram more information into a smaller package and draw you in.
Automate as much as you can. Creating high quality real estate content and building a lead generation sales funnel is time consuming. It's important to automate as much as possible. Setup email auto-responders that tell clients how quickly you return messages. Use apps that send auto-text replies when you can't answer the phone. Use templates for email marketing, web pages and graphics.
The CRIBFLYER mission is marketing automation. We've already built the best tools for creating single property websites and we're proud to announce we just launched amazing new tools for creating social media content.
Explore our "Social Media Promote" Tools. Make Instagram and Facebook graphics in seconds. With just a few clicks you can create professional graphics for your social media campaigns.
Just add a property, upload a few photos and click "Promote" in your admin panel. We already have tools available for Facebook and Instagram and more will be launching soon.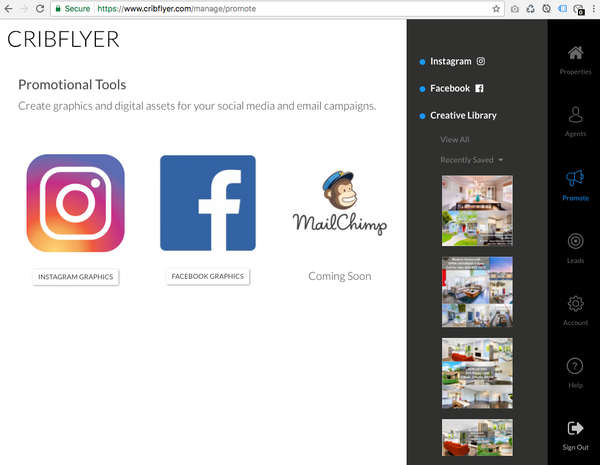 Choose a property to promote and then select from our library of multi-photo layout collages.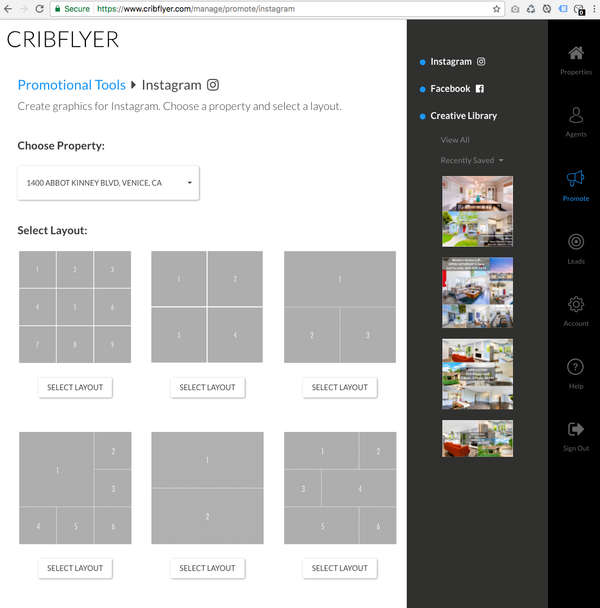 After your photo layout is generated you can overlay custom text. Choose your favorite font, font size and set your text positioning.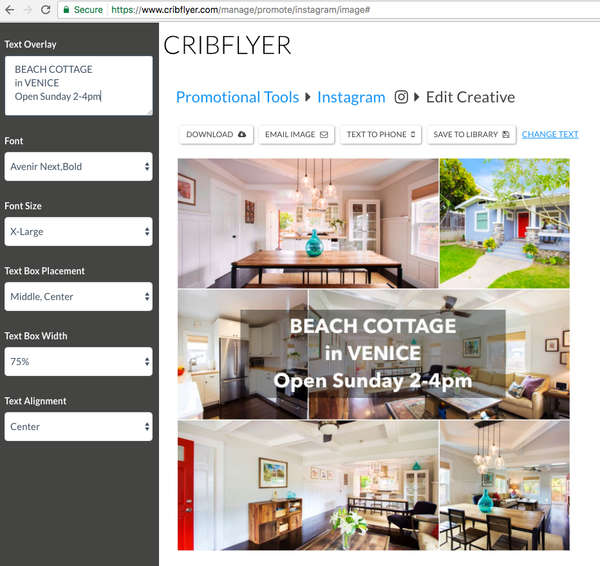 After customizing your social media creative just click one of the menu buttons to download, send via email, text to your mobile phone or save it to your creative library.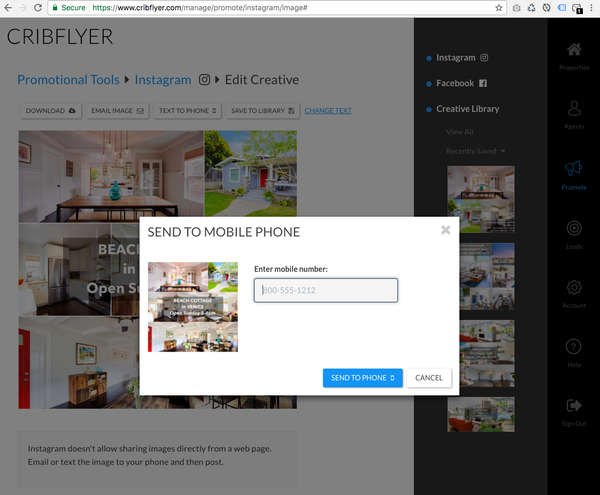 Save social media graphics in your creative library and view, edit, send, post anytime.